Group author promotions can help you find new readers. Promotions are most successful when every author shares the promo with their own mailing list and on social media.
We want promoters to feel confident that the authors joining their promos are going to participate, as group promotions only work when everyone pulls their weight. That is why we have started building a reputation of your performance when you join promos with other authors.
Where can you find your reputation?
At the top of Your Promos on your dashboard.
How Your Reputation is Determined
Your participation in promotions is building your "promo reputation" on BookFunnel. This reputation will be shared with the organizer of the promo you join, but is not visible to other author participants.
Every promotion you have participated in since May 1, 2019 will count towards your reputation.
If you join a promo and then remove your book before the promotion starts, the promo will not count towards your reputation.
If you remove a book from an active promotion, it will count as 1 promo+however many shares you accumulated before the book was removed.
When are shares added to your reputation?
When the promotion ends, your shares are added to your reputation.
Who can see my reputation?
The promo organizer can see your reputation, and you can see it by clicking Promotions on the BookFunnel dashboard and then clicking Your Promos.
When you join a new promo, the "Join promo" form will also display your reputation and inform you that it will be shared with the promo organizer when you submit your book.
Your reputation is not visible to other authors in the promo.
Where is the tracking link I should share?
You will receive a unique tracking link to use when sharing the promo with your mailing list and on social media. This allows BookFunnel to accurately count the total traffic you are sending to the promo and lets the organizer know that you are contributing to the promotion's success.
Your tracking link is displayed at the top of the promo on your BookFunnel dashboard.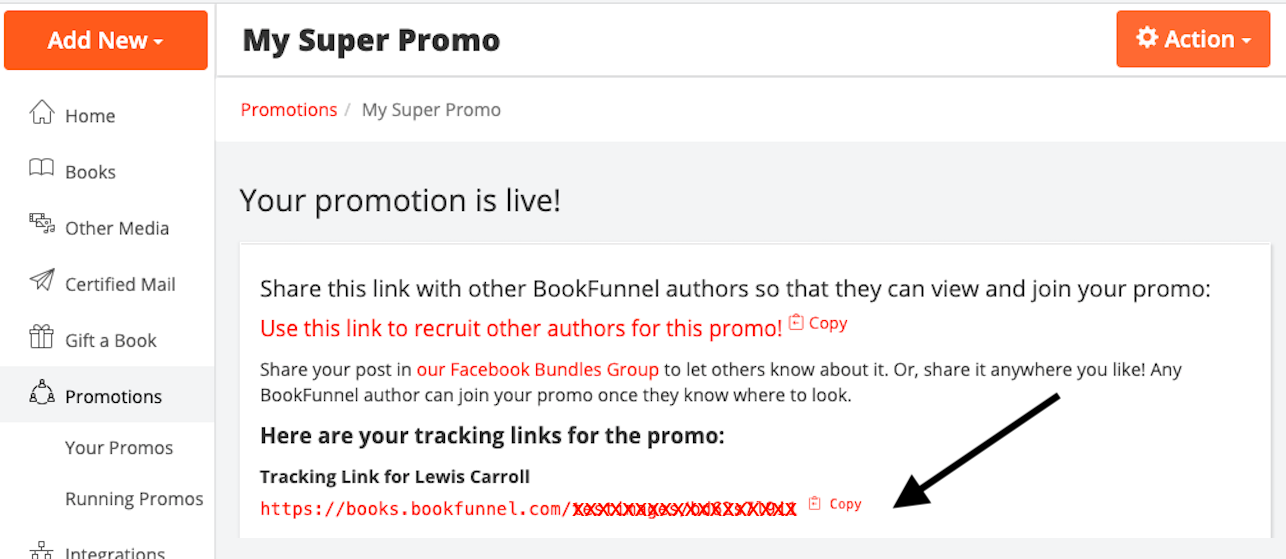 To locate your tracking link:
Click Your Promos.
Click the name of the promo you joined.
Your tracking link is displayed at the top of the screen. Don't see a tracking link at the top of the promo after joining? Contact us ASAP!
Multiple Books and Pen Names
If you submit two or more books by the same pen name to one promo, you will receive one tracking link.
If you submit books by more than one pen name, each pen name will receive its own tracking link and is expected to send the promo to its mailing list. Each tracking link will be displayed at the top of the promo below its pen name.
If your two pen names share one mailing list, you will need to notify the promoter when you join the promo or share both tracking links.
Small (but mighty!) Mailing Lists
"I have a small, engaged mailing list"
Small mailing lists are great and many authors have increased their mailing list with slow, steady work. Some promos have large list requirements, but not all.
If you see a promo that looks great but you don't quite meet the minimum list requirement, consider contacting the organizer and asking for an exception. Some organizers will make an exception or two because we all have to start somewhere. An engaged list of 50 subscribers can be more valuable than a monster list of readers that never open emails.
If you can't find a promo to join because your list isn't large enough (or your book doesn't meet other requirements), post your own promo! There are other authors with small, but mighty, mailing lists and they are looking for a promo to join. 🙂
What's a "Good" Score?
As with many things, "good" is relative. If you have a mailing list of 10,000 subscribers and average 15 shares per promo, that would indicate low engagement. Not necessarily a bad reputation, but low list engagement.
If you have a mailing list of 200 subscribers and average 75 shares per promo, you are basically a rock star.
If you've joined 23 promos and have shared an average of 0 readers, that's bad.
Promo organizers are looking for participants that actively and enthusiastically share the promo with their own list (or social media platform). The actual number doesn't matter much, as long as it isn't zero.
Related Posts