Want to setup a preorder for your next bestseller? Create a preorder and sell it directly from your online store and let BookFunnel handle the delivery on release day.
What is an ebook preorder delivery action?
In the publishing world, a preorder is the purchase of an ebook that has not yet been released.
A sales delivery action is a way for you to sell directly from your own website and let BookFunnel handle the file delivery (and any reader tech support that may arise). Learn more about direct sales and delivery.
A preorder delivery action allows you to sell a preorder in your online store and, on release day, sit back and relax while BookFunnel sends out all of the delivery emails to your happy buyers.
How does a preorder delivery action work?
You create a "preorder" in your online store and then create a delivery action on BookFunnel. Unlike a standard delivery action, your preorder will have a delivery date scheduled in the future. When a buyer purchases your preorder, BookFunnel will record the transaction and hold the delivery email until the release date you specified. On release day, BookFunnel will send a delivery email to your buyers at 12:01 AM EST.
How To Create an Ebook Preorder Delivery Action
To create a preorder delivery action, you must first have connected your online store to your BookFunnel account. If you haven't done this yet (or aren't sure you have), click Sales on your BookFunnel dashboard or read this help article about BookFunnel Sales Delivery.
Once your store delivery settings are on your Sales dashboard, you can create a preorder delivery action. This how-to is focused on how to set a delivery date in the future, and how to lock the files and approve them for delivery on release day. If you haven't created a delivery action before, please read these help articles and watch these videos for your sales platform first: Payhip, PayPal, Selz, Shopify, and WooCommerce. They are step-by-step and will walk you through connecting your online store to your BookFunnel account.
Step One: Create a Book
If your book files haven't been finalized, do not upload any book files yet. Create a draft book (details below) and upload the final files later.
To create a new book, click Add at the top of your BookFunnel dashboard and add a new book.
If your book files are ready to publish: Complete the form and upload the JPEG book cover and at least an EPUB, MOBI, or PDF.
If your book files are not ready to publish: Type the book title and select your author pen name, then click Save And Close. Now you can create your preorder. You can upload the finalized files later.
Step Two: Create a Preorder Delivery Action
Click Sales on your BookFunnel dashboard
Click +New Delivery Action
Name your delivery action Example: Alice's Adventures Preorder July 1
Select the book from the Books to Deliver dropdown menu
Click At a Later Date
Select the date you would like your preorder to be sent to readers
Paste the Item ID, SKU, or item link (each sales platform is slightly different, so please follow the how-to for your store if you have any trouble with this: Payhip, PayPal, Selz, Shopify, WooCommerce
Optionally customize the delivery email and delivery page style
Click Save And Close
Step 3: Verify That The Book Files Are Correct
Once you have uploaded the final book files, verify they are correct!
Click Sales on your BookFunnel dashboard and locate your preorder delivery action
Click the linked book title on the preorder to view the book files we have received. You can click the linked file name to download the actual files we received and verify they are correct
If a file needs to be replaced, click the orange Action button to upload the correct book files.
Remember to save your changes!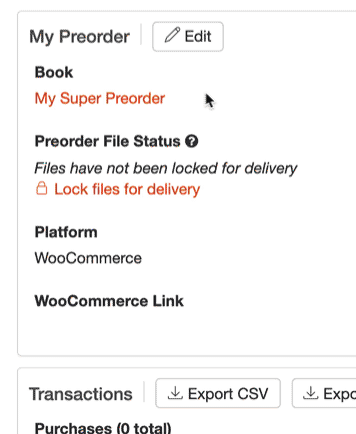 Click the book title on the preorder to check the book files for accuracy.
Step 4: Lock Preorder Book Files For Delivery
After your preorder delivery action has been created, it will default to "Files have not been locked for delivery." If your finalized files are ready to go, you can upload them immediately and lock them for delivery. If your final copies aren't ready just yet, no problem! You can upload them later.
When your final book files have been uploaded to BookFunnel, click the padlock next to Lock files for delivery. Once you lock the files, BookFunnel will send them to your buyers on release day.
If you need to make any changes to the book files after locking, click Unlock files and make any necessary changes. You will need to lock the files again when the book is finalized and correct.
Related Posts