Difficulty: Easy
With BookFunnel Delivery Actions, you can sell your book on Gumroad and BookFunnel will send a unique, private download link to your buyer automatically! We'll also handle any tech support if the reader has trouble transferring the book to their reading device. Learn more about delivery actions and how they work.
Ready to get started? First, we will save the delivery settings for Gumroad, and then we will create a delivery action for your book.
Gumroad's Delivery Process
Gumroad supports a custom redirect link on each product. This will automatically redirect your ebook and audiobook buyers to your BookFunnel Checkout Delivery link where they can instantly download their purchase.
BookFunnel will also send each buyer a delivery email with their download link, but the checkout delivery link is the best experience since they can download their purchase without ever leaving their browser.
Gumroad Delivery Settings
It takes about a minute to integrate with your Gumroad store. This setting tells Gumroad to notify BookFunnel when you sell a book.
To set the delivery settings for your Gumroad store:
Open your BookFunnel Sales dashboard
Click Action and select Delivery Settings
Enable Gumroad
Click Connect to Gumroad
You'll bounce to Gumroad and BookFunnel will ask permission to integrate. Click Authorize.
Create the Book on Gumroad
Create the ebook or audiobook (or boxset or bundle!) on Gumroad
On the book's "Content" settings, disable the beta content editor
Click Redirect to a URL after purchase. This is where readers will be forwarded to download their book immediately after completing their purchase.
Paste your checkout delivery link. You can find it on your BookFunnel Sales dashboard by clicking Action and selecting Delivery Settings. Click Copy to copy the link to your clipboard. You can personalize the checkout delivery link before copying it, just remember to click Save Settings at the bottom of popup.
Return to Gumroad and paste the Checkout Delivery Link into the Redirect URL field.
After pasting the BookFunnel link in the redirect URL, click Save Changes on Gumroad
Next you will create a delivery action for each product BookFunnel should deliver.
Gumroad Delivery Actions
A delivery action tells BookFunnel exactly which book (or books) to deliver when you sell something on Gumroad.
If we receive a Gumroad transaction for an item that does not have a BookFunnel delivery action, we will simply ignore it.
On your BookFunnel Sales dashboard, click Action and select +New Delivery Action
Name your delivery action Example: Book One with Extended Epilogue
Select the book to deliver from the drop-down menu (select additional books if you are selling a boxset or book bundle)
Select Immediately for most delivery actions, or select At a later date to create a preorder
If you have enabled more than one sales platform, select Gumroad
Copy the Gumroad product URL by opening Gumroad in a separate browser window and clicking Product. Click the product name (don't click the URL below the product name as it adds tracking garbage to the end of the link).
Click the link button next to the product title to copy it to your clipboard
Return to BookFunnel and paste the Product URL into the delivery action
You can optionally customize the delivery email and page settings
Save And Close your new delivery action
Open your Gumroad Product URL in a new tab and purchase the product. If you are still logged in, Gumroad will detect you are testing and will let you "checkout" without actually charging you. Thanks, Gumroad!
After completing the purchase, open your BookFunnel Sales dashboard and check the Recent Transaction Log to see if BookFunnel received the transaction and if we were able to match it to the correct delivery action.
Test Your New Delivery Action
If you do not receive a delivery email after testing, check our Gumroad troubleshooting guide.
Testing Free Books on First-Time Author Plan
BookFunnel will not send a delivery email on the First-Time Author plan on a free book.
You can still test with free books and check your dashboard to make sure Gumroad and BookFunnel can communicate. The BookFunnel Sales dashboard will indicate why a book wasn't delivered. If the only reason it was not sent was the price, you know that everything is connected correctly! Once the book is not free, BookFunnel will send a delivery email on future purchases.
To Activate a Paused Delivery Action
Click Sales on your BookFunnel dashboard
Click the name of the delivery action
Click Action and select Edit Action Details
Uncheck "Pause this Delivery Action"
Save and close your delivery action
A Note on PayPal Payments When Testing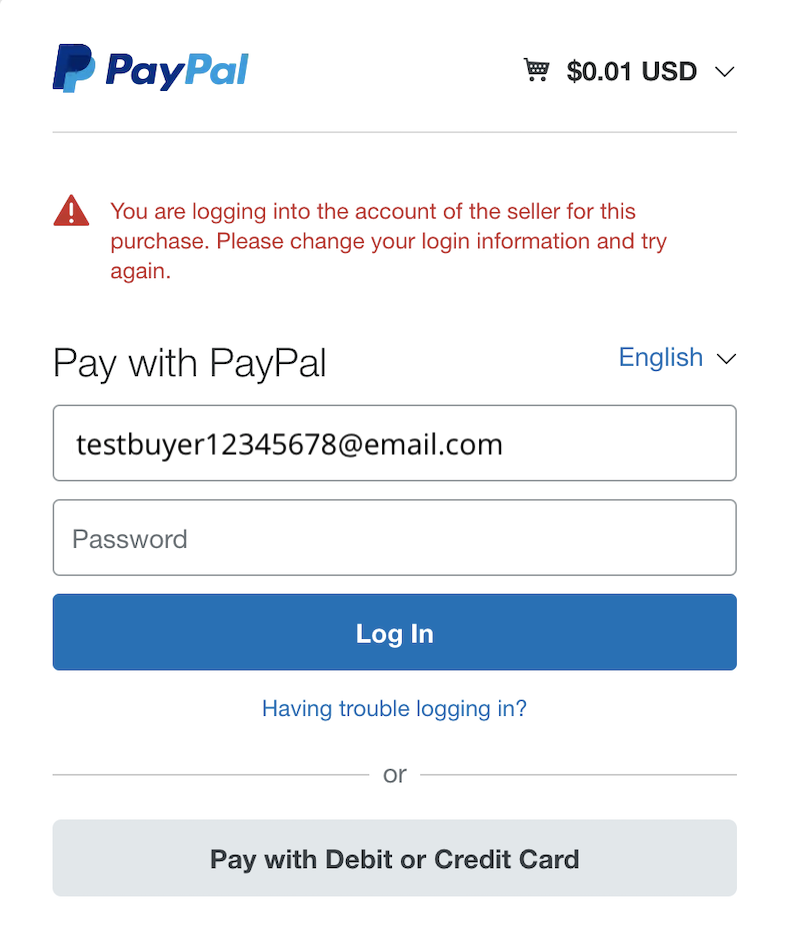 PayPal will not allow you to buy an item with the same PayPal account as the PayPal account of the seller. To get around this problem and test your book delivery, you can either:
Use a second PayPal account, or
Click Pay with Debit or Credit Card and purchase without logging into your PayPal account.
Additional Notes
Delivery Actions are available on all BookFunnel plans
Each buyer receives a unique download link
Buyers have 14 days to download the book files, and can request additional time by visiting BookFunnel.com/help
EPUB & MOBI files are watermarked with the buyer's email address
Delivery Action downloads are counted against your monthly download quota (just like a regular download)
Related Posts