In the old days, MOBIs were for Kindles and EPUBs were for everything else.
Now that Amazon Send to Kindle will accept EPUB files, readers are reporting ugly formatting when they send EPUBs to their @kindle accounts. We've added Kindle EPUB delivery to solve this problem!
Accepted File Types
When you upload your ebook to BookFunnel, you can upload between one and four ebook files per book: Generic EPUB, Kindle EPUB, Legacy MOBI, and PDF.
Uploading your ebook files is as simple as dragging-and-dropping them onto your book on the BookFunnel dashboard.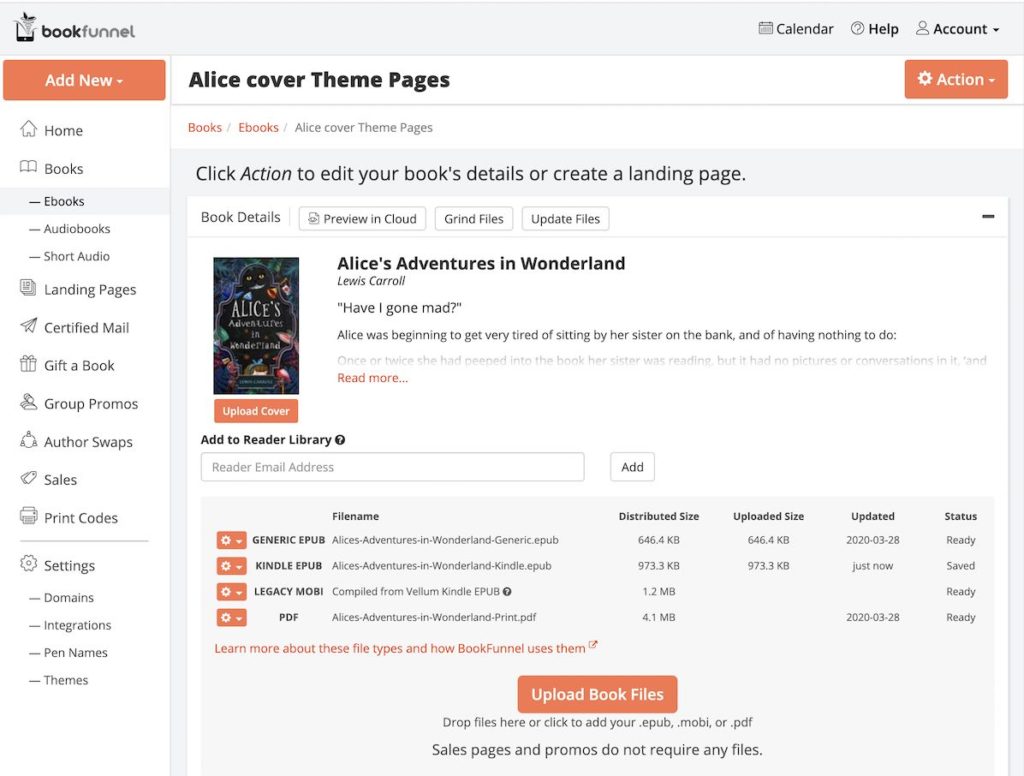 GENERIC EPUB
Any non-Kindle EPUB you upload to BookFunnel will become your "Generic EPUB". Your generic EPUB will be distributed to any non-Kindle app, including Apple Books, Kobo, NOOK, and Play Books.
If you use Vellum to create your books, please export a Generic EPUB. Store-specific EPUBs can be broken when opened in the wrong reading app.
KINDLE EPUB
When you send an ebook to Send to Kindle, Amazon converts it to their own format and then delivers it to your Kindle (or Kindle app). Sometimes the converted file looks very different, especially in the Kindle app on iPhones and iPads.
To improve these conversions, BookFunnel can distribute a special Kindle EPUB file for Kindle readers. Learn more about Kindle EPUBs.
LEGACY MOBI
Amazon has deprecated MOBIs, but many readers are on legacy Kindles that can't open an EPUB file directly, and they can't use Send to Kindle for some reason. BookFunnel will offer MOBIs for direct download for readers on these devices:
Kindle ereaders like the Paperwhite, Voyage, Oasis, Touch
Kindle App on Mac and PC
Kindle Fires and Amazon Fire Tablets
If you do not upload a MOBI, BookFunnel will automatically create one from your Kindle EPUB or Generic EPUB.
PDF
PDF files are great for things like worksheets, coloring books, and graphic novels, and can be used for ebook files as well. PDF-only files are not ideal for ebook reading, as many people now read on their mobile phones. PDF files, unlike ebook files, don't allow font or text size adjustment.
You're not required to provide a PDF with your ebook, but some readers will appreciate it, especially if they read on their computer or like to print out books for reading (yes, really!).
Maximum File Size
The largest file you can upload to an author account is 300 MB*.
Please note: many readers cannot accept email attachments larger than 10 MB, so your file should be smaller than that if possible. If it the file is too large, readers cannot send your book to their Send To Kindle @kindle account.
Related Posts