Every process on BookFunnel begins with creating a book. Once you have added your book, you can then create sales pages, download pages, join promos, send Certified Mail campaigns, create delivery actions, etc.
You can always edit your book or replace its files without interrupting your current downloads.
Step 1: Create a Book
To add a new book to BookFunnel:
Click the Add button at the top of your dashboard and select Add New Book.
Complete the form.

Book Title This is your book's title. Example: Pride and Prejudice
Book Label This is a convenient reference for you. Example: "Pride and Prejudice with bonus scene from Emma"
Book Type Select a tag that accurately describes the book files you are uploading. Example: Sample, ARC, Excerpt, or Complete Book

Author/Pen Name Select your Author/Pen Name from the drop-down.
Amazon ASIN If your book is on Amazon, you can optionally provide the ASIN or ISBN. Learn more about Amazon ASINs here.
Book Tagline Entice readers with a short sentence so that they have to download your book. Your tagline will be used to pre-populate the headings on any download page you create.
Book Description We will use this book description to pre-populate your book download pages going forward.
Note For Readers This text will be displayed above your book description and can be used to tell readers about how great your mailing list will be, when their ARC is due and where to post it, or that this content is for mature audiences only.

Click Save And Close.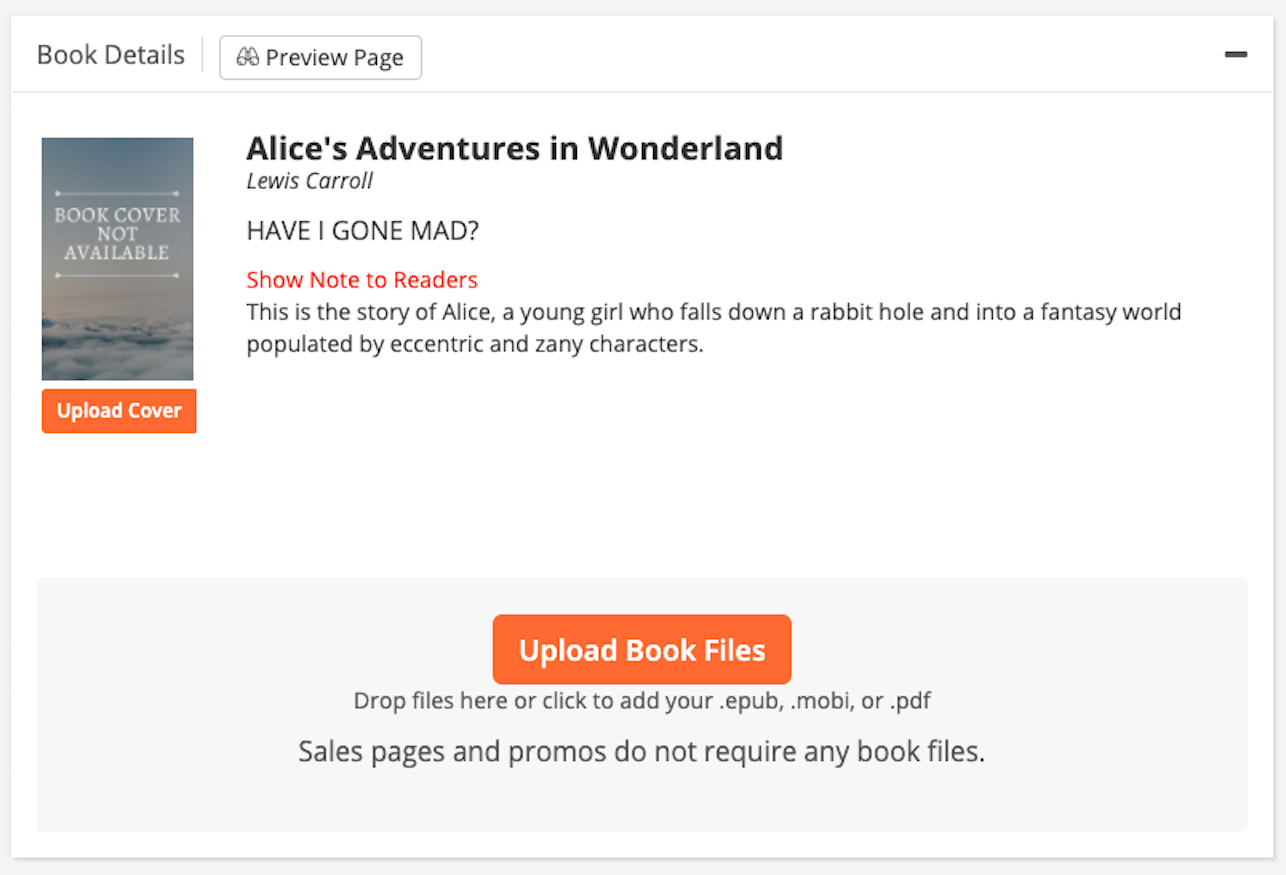 You've created a book! Next…
Step 2: Upload a Book Cover
Once you have created your book, you're ready to add your book cover. All BookFunnel pages prominently feature your book cover, so don't skip this step.
To upload your book cover:
Click Upload Cover and locate your JPEG book cover, or
Drag-and-drop your JPEG book cover and onto the book cover drop zone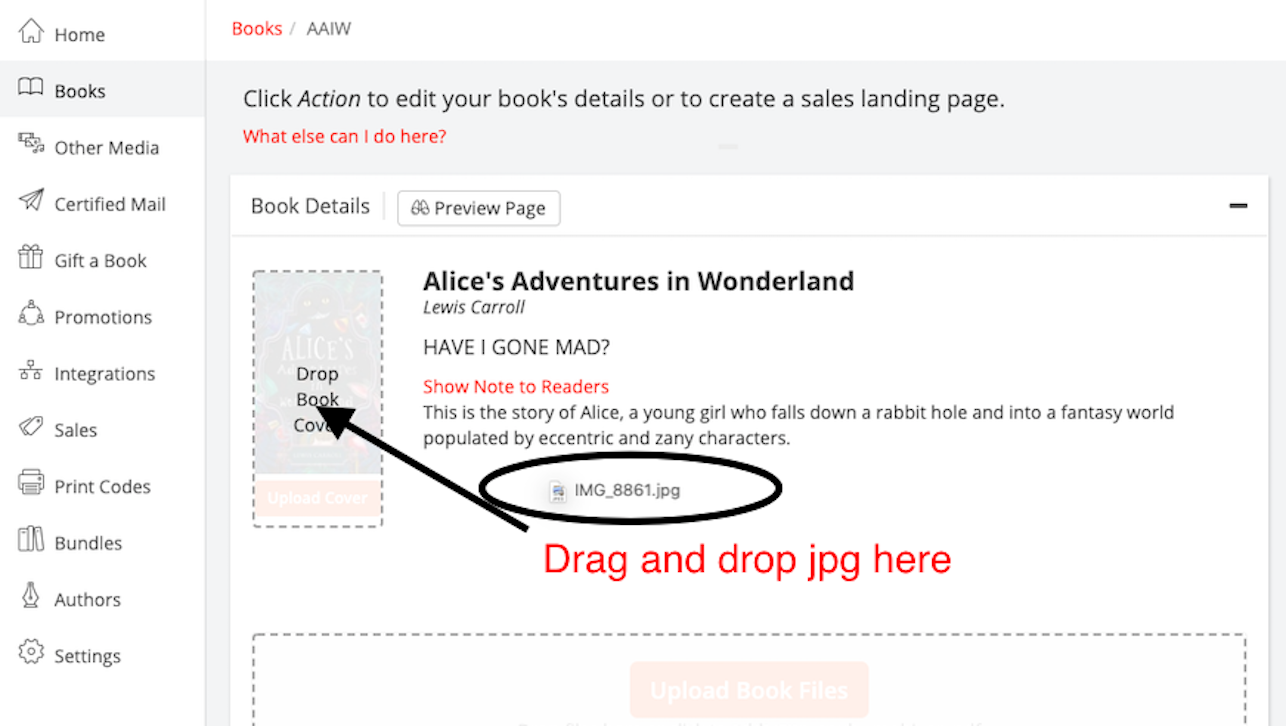 Step 3: Upload your Book Files (Optional)
To upload your ebook files so that BookFunnel can deliver your book to readers, you will need at least one EPUB, MOBI, and/or PDF. You only need to upload your book files if you will be delivering this book to readers through our service (ARC, reader magnets, etc.).
This step it optional if the book will not be delivered through BookFunnel. If you have added the book so that you can create a sales page, and have no intention of ever sending this book to a reader through our service, you can skip Step 3.
To upload your book files:
Click Upload Book Files and locate your EPUB, MOBI, and/or PDF ebook file, or
Drag-and-drop your EPUB, MOBI, and/or PDF onto the book file drop zone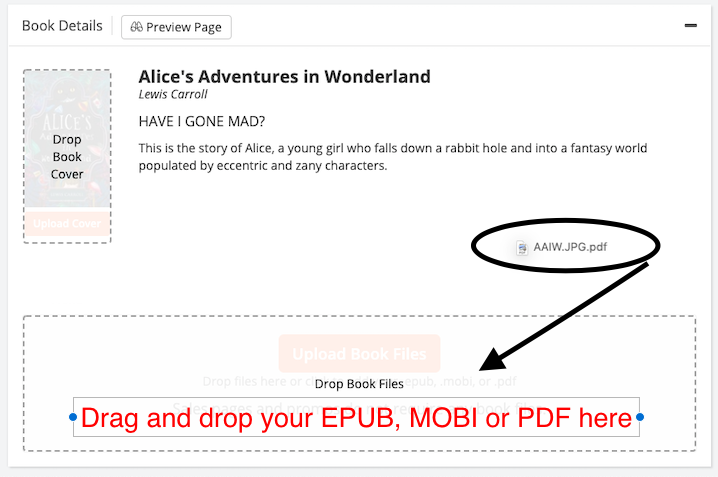 Edit Book Details
You can edit your book title, book description, or change your author name, without pausing active downloads.
To edit any text on your book:
Click Books on your BookFunnel dashboard
Click the ACTION button next to the title of the book
Select Edit Book Details.
Make any necessary changes.
Click Save And Close.
If you used custom text on your download pages instead of the "use book description" default, you will need to edit your download pages individually when you change your book description or tagline. Learn how to edit your existing download page.
Replace Your Book Files
You can edit or replace any book files without breaking your BookFunnel pages. Upload a new MOBI, EPUB, PDF, or book cover and BookFunnel will immediately begin serving up the new files.
To edit or replace your book files:
Click Books on your BookFunnel dashboard
Click the book title
Click the Upload Cover button or the Upload Book Files button to manually upload new files. Or, drag-and-drop the new files.
Delete Your Book
Wait! If you delete your book, any reader that clicks on a link you sent them previously is going to see an "invalid link" message. It is best to expire pages, which will prevent anyone else from downloading the book.
If you must delete the book:
Click Books on your BookFunnel dashboard
Click the ACTION

button

next to the title of the book you wish to delete
Select Delete Book
Confirm you want to delete the book and it will be removed from your dashboard
Book Requirements
To upload a new ebook for delivery, you will need at least one book file (EPUB, MOBI, or PDF) and your book's cover image in JPEG format. If you will not be delivering the book through BookFunnel, and will only use it for sales pages and sales promotions, you do not need to upload ebook files.
If you have both a MOBI and EPUB of your book, please upload both. If you only have one file format, BookFunnel will automatically generate the other. Meaning, if you provide an EPUB file only, BookFunnel will compile a MOBI from your EPUB. If you provide a MOBI file only, BookFunnel will compile an EPUB file from your MOBI.
If you only upload a PDF file, that will be the only file available to readers. You cannot create a MOBI or EPUB from a PDF without significant formatting problems. Instead, convert your source file (assuming it is a Microsoft Word.docx) into an ebook easily using this free conversion tool!
EPUB Files
Maximum EPUB File Size: 30 MB*
Your EPUB file should have the book cover embedded. Ideally, it should be smaller than 23 MB so that users can email the book files to their iOS devices.
MOBI Files
In August 2022, Amazon will only accept EPUB files for Send to Kindle, which is FANTASTIC news for readers. This article will be updated to reflect these file requirement changes when BookFunnel completes our migration from MOBI.
Maximum MOBI File Size: 30 MB*
Your MOBI file should have the book cover embedded. Ideally, it should be less than 23 MBs in size. If it is larger than 23 MB, Send-To-Kindle readers will not be able to email the book file to their kindle account.
PDF Files
Maximum PDF File Size: 30 MB*
PDF files are great for things like worksheets, coloring books, and graphic novels, and can be used for ebook files as well. Please note that PDF-only files are not ideal for ebook reading, as many readers are using their mobile phones. PDF files, unlike ebook files, don't allow font or text size adjustment.
You're not required to provide a PDF with your ebook, but some readers will appreciate it, especially if they read on their computer or like to print out books for reading (yes, really!).
* If you are an illustrated book author or graphic novelist and subscribed to our Mid-List plan (or higher), you can request a higher file limit.
Book Cover JPEG File Requirements
All BookFunnel pages prominently feature your book cover. If you do not have a book cover, BookFunnel will display a generic book cover on your download pages. Need a free or temporary book cover?
Recommended JPEG Size: 640×1000
This is our recommended aspect ratio, but don't worry if your book cover is different. BookFunnel will display your book cover/boxset image correctly (without distortion) on every landing page.
Embed Your Book Cover
Your EPUB should have the book cover embedded inside of them. When the book cover is embedded inside the file, readers will see your beautiful book cover when they read your book on their e-reader or reading app.
All software that can generate an EPUB file will embed the book cover for you. We've compiled a few help links for common ebook formatters:
How To Embed a Book Cover using…
Scrivener, Calibre, Vellum, Jutoh, Apple Pages
If you only have a Word.docx file, you can use this simple tool to create an EPUB.
Related Posts