Sometimes a reader will email you Sometimes a reader will email you instead of us when they need help. Learn how you can prevent reader support emails.
What to do When Readers Contact You
If you still receive emails after implementing the tips linked above, you can reply to your reader and ask them to click the Need Help? link at the top of the page.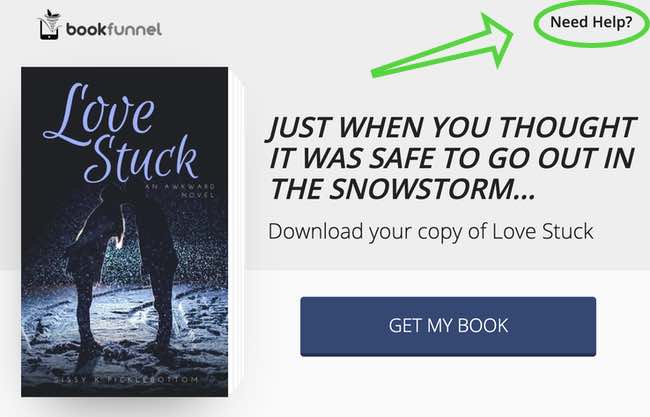 We prefer it when readers submit a help request because it identifies their exact device, click history on your page, and what trouble they are having. This makes our support reply seem magical in its accuracy and efficiency.
Also, help requests never get lost or end up in the wrong inbox.
Please don't submit a help request on behalf of your reader, as that inserts your device history into their email log.
If a reader is frustrated, you can reply to them and CC help@bookfunnel.com in that reply. Please include the full email thread in the reply so that we have as much information as possible, including the entire message you originally sent out with the download link.
Please do not contact us and ask us to email your reader. They likely won't get our email and that doesn't help you, them, or us.
Your reader needs to know which email address we will be replying from, and we want to lower the chances that our reply will go to their junk/spam folder. Help requests are strongly preferred because they don't get lost like emails often do.
Not sure how to handle a reader?
If a reader emails you directly and can't find the help link, forward them to BookFunnel:
Open their email and click REPLY.
Add help@bookfunnel.com to the CC field.
Copy and paste this text, or write your own:
"I'm sorry you are having trouble, $name! I'm sending you right over to the friendly folks at BookFunnel. They handle my book delivery and will help you get the book downloaded so that you can start reading!"
Related Posts