When you find a great swap opportunity on the Author Swaps board, it only takes a minute to request a swap date!
Request an Author Swap
To request an author swap, click the swap on the board to open the detail view.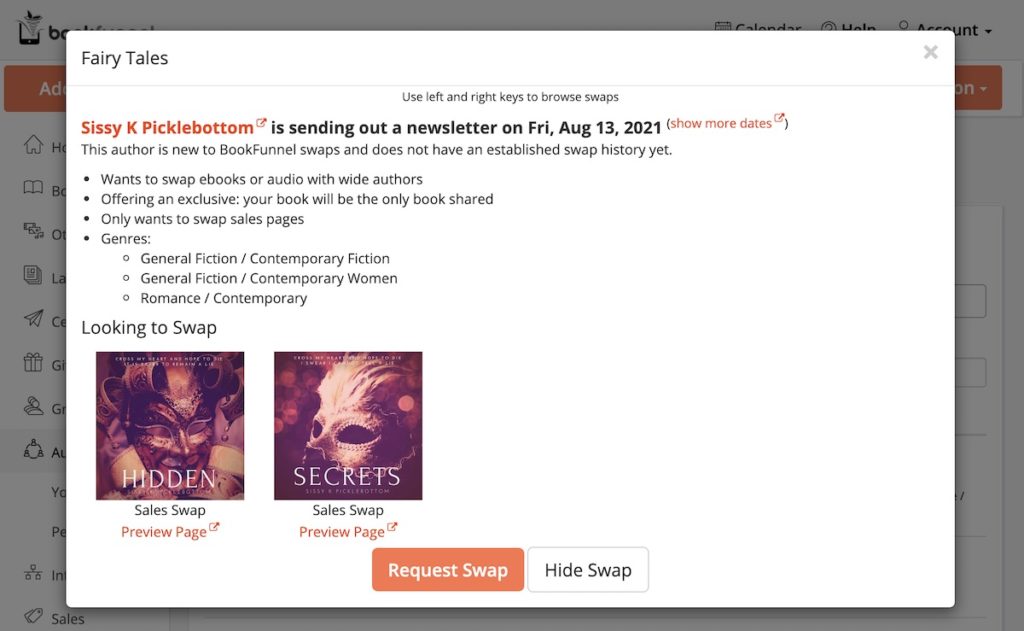 Locate a swap on the Author Swaps board that looks like a good fit.
If the date listed at the top of the swap isn't perfect, you can click Show more dates to check for other dates that might work better for you. Or, you can click the author's name linked at the top to view every swap that author has posted. Some authors have different newsletters for different purposes, so it is worth checking!
If the author has offered a Signup Swap, you can click Preview Book to open the ebook in the BookFunnel Cloud Reader and page through it. Preview Book will not be available on a Sales Swap. You can also click Preview Page to look at the BookFunnel landing page they want you to share in your newsletter.
If the author has offered a Sales Swap, click Preview Page to look at the BookFunnel landing page they want you to share in your newsletter.
If all looks great, click Request Swap.
Which book do you want to share in your newsletter? – If more than one book is offered, select which title you want to share with your mailing list.
When will you share this? – Select a date you will share the book. This is the date you will send your newsletter and include their book link.


What placement are you offering? – Describe how prominent their book link will be when you send it out in your newsletter.


Exclusive – Their link will be the only other author's book in your newsletter.
Feature – Their link will be featured above one or two other books in your newsletter and will likely include a book blurb, book cover, or personal comment about the book.
Mention – Their link will be listed with several other book links in your newsletter.

What is your primary audience? – Select your newsletter audience. Do the subscribers on your list primarily get books in KU, buy books from wide retailers, or both? Select Any if you're a hybrid author or your mailing list is a mix of buyers (or if you don't know!).
Which of your books do you want them to share? – Select the book and landing page you want them to share in their newsletter. If you see an error because you don't have the landing page type the author is requesting, click Create Landing Page. Once you have created and saved your new landing page, you can return to the swap request window and click Refresh to select your new page.


1. The author may have included additional questions at the bottom of the request form.

2. If you include any comments, they will be sent to the author in your request.

3. Click Submit Request.
Your swap request will be sent to the organizer. They have three days to review the request and respond. If they do not review the request after three days, your request will be automatically rejected so that you can keep looking.
Cancel Pending Request
While the swap request is pending, you can find the request on Your Swaps under Swaps You've Requested. If necessary, you can click Action and cancel the request.

Swap Request Was Approved!
When your request is approved, the swap is added to your BookFunnel calendar and can also be found on Your Swaps under Scheduled Swaps. You are expected to share your tracking link on the date you told the organizer you would. Learn more about tracking links.
How to Share Your Tracking Link
On the swap date you scheduled, you will send your tracking link to your newsletter subscribers.
You can find your tracking link by clicking Calendar at the top of your BookFunnel dashboard and selecting the current month. Click Copy Tracking Link to copy the link to your clipboard. You can also find your tracking link on Your Swaps under Your Scheduled Swaps.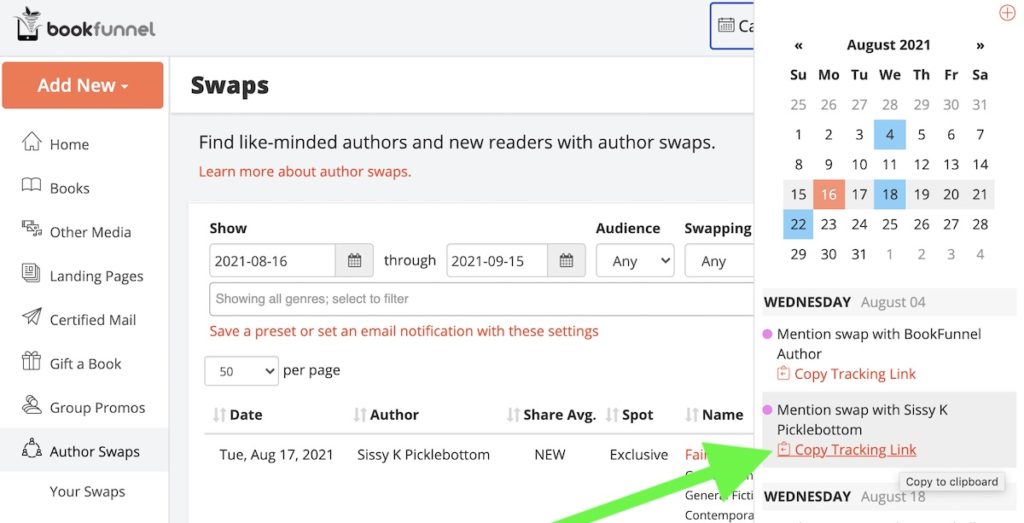 To send the tracking link to your newsletter, compose an email to your list through your mailing list service. Then paste the link into the message. Every email service provider has a slightly different email editor, but here is a general how-to:
Compose your outgoing message to your subscribers.
Paste the full tracking link into the message. It can be found using the instructions and screenshot above and will look something like https://dlorbuy.bookfunnel.com/qwtfq6l?tid=vr45oom5q.
Highlight the full tracking link you just pasted.
Click the Make Link button in the email editor. The button usually looks like a chain link and will be in the same general area as your text editing options.
If your email editor asks you to enter the website link again, paste the full tracking link into the Link form and then save it.
Send the email to your list!
Swap Request Was Declined
If your request is declined, you'll receive an email from BookFunnel with a comment from the organizer on why the swap was declined.
Browse the Author Swaps board for other swap opportunities. If there aren't any other swaps that are a good fit, try posting your own!
Cancel a Scheduled Swap
You scheduled a swap with a great author, but something has come up and you need to cancel it. If neither of you has shared yet, no problem! You can cancel the swap on your dashboard and BookFunnel will notify the author.
To cancel an upcoming swap:
Click Author Swaps and then click Your Swaps.
Click Action next to the scheduled swap.
Select Cancel Swap. The author will be notified via email that the swap has been canceled.
Cancel a swap after the author shared:
If you cancel a swap after the other author has shared, it will show as canceled in your swap history and the swap and the current share count on your tracking link will be added to your share average.
Cancel a swap because the author did not share:
If the other author's share date has passed and they did not share as agreed, you can cancel the swap before your swap date. The swap will not be added to your share average.
First-Time Authors in Author Swaps
Authors on the First-Time Author plan can post and join both sales swaps and signup swaps.
First-Time Author users will submit a simple download page to signup swaps since the First-Time Author plan does not include email collection.
When you swap a simple download page with another author, readers can download your book without submitting an email or joining your list. Instead, you will invite readers to join your mailing list inside the ebook they just downloaded! Be sure your ebook includes a signup link on the front and back of the ebook so readers who download your book will be encouraged to join your mailing list.
Related Posts