Do you use Facebook ads and track landing page activity on BookFunnel using your Facebook pixel? If so, Facebook requires you verify your domain.
More from Facebook on the iOS 14 privacy changes that may affect your ads.
How to Verify Your Domain
You will verify your own domain on Facebook and then create a CNAME (also known as a subdomain) and point it to BookFunnel. If your author website is yourdomain.com, your new subdomain could be bf.yourdomain.com or books.yourdomain.com. More CNAME examples below.
All of your BookFunnel landing pages will look and behave exactly as they should and the Facebook pixel police will be satisfied. The only difference will be the URL! Instead of sending readers to dl.bookfunnel.com, you will send readers to bf.yourdomain.com.
Creating a subdomain won't change any of your existing BookFunnel links–they'll all continue to work! Creating a CNAME and pointing it to BookFunnel will create alternate links you can use on Facebook (and anywhere else you would prefer to send traffic to your own domain and not to bookfunnel.com).
Can I verify BookFunnel.com?
This is where we started, hoping it would be a quick and simple solution.
After many (many) rounds of testing with authors (verifying domains and subdomains and then testing ads and pixel data), we realized that the best way to make it all work well is to use a domain that you own, not a domain that we own. You own the domain, we host the domain, and Facebook is happy.
CNAME Suggestions
Your CNAME can be anything. Some suggestions would be:
If you create one of the CNAME examples above, your managed domain URL on BookFunnel will be:
bookfunnel.yourdomain.com
bf.yourdomain.com
offer.yourdomain.com
books.yourdomain.com
There are a few steps to complete and we'll walk you through each one.
Step One: Own (or Buy) a Domain
If you already own a domain, you can move on down to Step Two!
If you don't own a domain name yet, you'll need to purchase one. We like namecheap.com (no affiliation, just our preference), but you can register a domain from any provider. Most authors register their author name or publishing name. If yourname.com isn't available, you can always try AUTHORyourname.com or yournameBOOKS.com or yourname.net.
If you are only buying a domain so that you can verify it, you do not need to purchase hosting, SSL certificates, or any other upsells when completing the domain registration. Those are only necessary when you are want to build a website on the domain.
Step Two: Verify Your Domain on Facebook
If you've already verified your domain on Facebook, you can move on down to Step Three!
To verify your domain on Facebook, follow the steps in Facebook's help section.
After adding your domain to Business Manager, you'll verify it by adding the meta-tag to your home page or by adding a DNS TXT entry to your DNS record. If you don't have a live website on your domain, DNS TXT is the way to verify your domain.
The precise steps to add a DNS TXT entry to your DNS record vary by domain registrar. Google "add DNS txt record NameCheap/ GoDaddy/ SquareSpace" or contact us and tell us where your domain is registered! We can't do the setup for you, but we can search for help and point you in the right direction.
Step Three: Create a CNAME (Subdomain)
You'll create a CNAME on your domain and point it to dl.bookfunnel.com.
The precise steps to create a CNAME will vary by domain registrar. Learn more about creating a CNAME.
Step Four: Create the Domain on BookFunnel
Once your CNAME is created and pointed to dl.bookfunnel.com, you can add the domain to BookFunnel.
Type in your new subdomain URL. Example: bf.yourdomain.com
Paste your Facebook Pixel ID.
Click Save and Close.
Email BookFunnel support so that we can complete the setup! This is a manual process for us, so please allow 24-48 hours to process your subdomain.
You can view and edit your new domain on the dashboard.
Your New Landing Page URLs
Once your subdomain is live on BookFunnel, you can begin to send Facebook traffic to your new URL.
Every landing page on BookFunnel will display two links:
Your original BookFunnel link.
Your new verified domain link.

If you create two or more subdomains, you can click to show all custom links so that you can copy the appropriate URL for Facebook.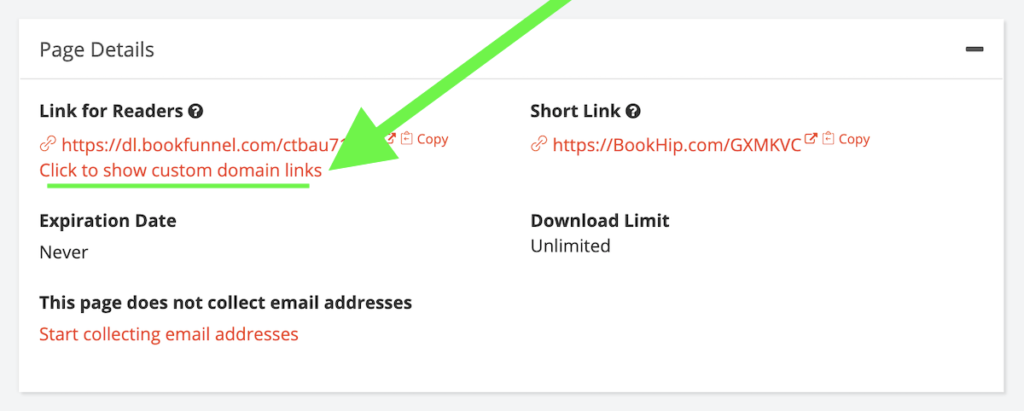 You can continue to use your original BookFunnel links for non-Facebook related purposes, or you can use your new domain everywhere. Your choice!
If you want your Facebook pixel to report activity on a landing page, you will need to use your verified domain. Facebook will stop accepting your pixel data from dl.BookFunnel.com and Bookhip.com links soon.
Related Posts