You can customize the layout and design of your group promo landing page.
Design Your Promo Landing Page
Click Promotions on your dashboard and then click Your Promos.
Click the name of your promo.
Click Action and select Edit Landing Page.
Landing Page Settings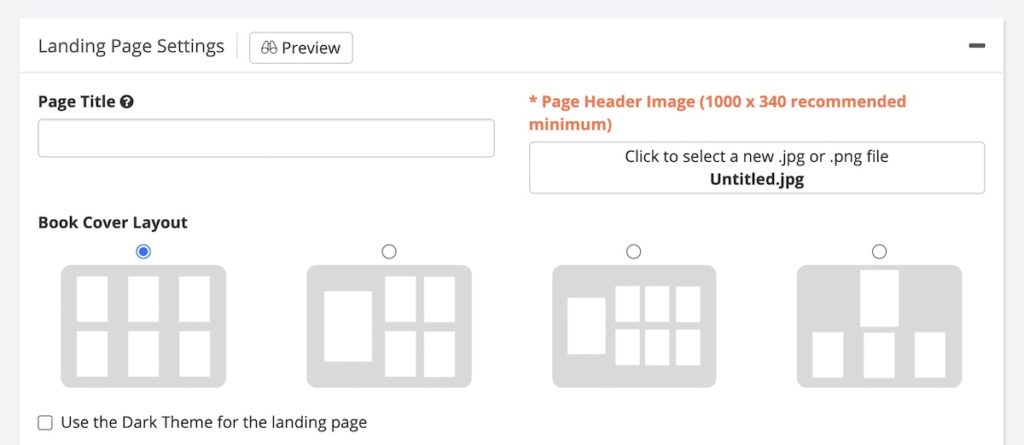 Page Title This is the title of the page on a user's web browser, but is not displayed on the page itself.
Page Header Image You can upload a JPEG or PNG header image. If you want a header image but do not have one, you can use Canva.com to create one in minutes for free or $1. We like their Twitter Header and Etsy Cover Photo template because of their dimensions but play around with all of their options. Have fun!
Book Cover Layout You can select one of the four available layouts for your promo.
Dark Theme Changes the background color of the landing page to black.
Page Text You can include text here if you would like to, or leave it blank and let the book covers shine.
Coming Soon Message This text will be displayed before the promo starts in case an author shares the promo before it begins by mistake.
Promotion Ended Message This text will be displayed after the promo has ended.
Show a Countdown Timer The timer will count down until your promo starts, and then will count down until your promo ends.
Show Social Media Sharing Icons Add social media sharing icons to the top of the landing page. You can optionally add a custom sharing message.
Facebook Pixel ID Include your Facebook pixel and track leads from Facebook ads and organic Facebook traffic. Please note that Facebook will only report pixel data when you send traffic to your managed custom domain. Learn more about custom domains and Facebook.
BookFunnel Links
Books in your promo will be displayed in this table.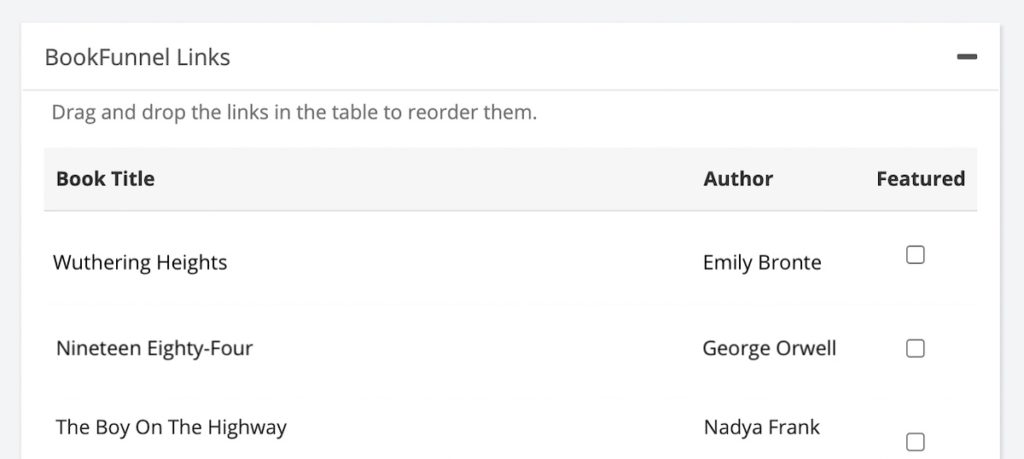 Manually set the order of books If you want to customize the order of every book in the promo, you can uncheck the Randomize the order of books tickbox and drag-and-drop the books into your preferred order. Remember to save your changes.
Randomize the order of books The top row of books will always get more eyeballs than the last row. You can randomize the book covers to distribute those eyeballs more evenly. If Randomize Books is enabled, you can optionally mark a book as Featured.
Feature Books If you randomize your book covers, you can optionally lock books to the top of the promo landing page by ticking the Featured checkbox to the right of the book title. Features books will always remain at the top the book landing page while the other books are randomized every time a new reader views the promo. This feature is disabled if you uncheck the Randomize Books tickbox.
Click Save Landing Page.
Related Posts